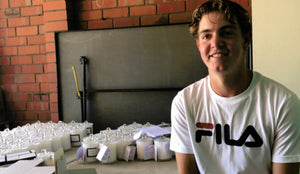 In 2017, a 14-year-old boy named Liam embarked on a mission to make a meaningful impact in the world. He founded Kenshi Candles as a social enterprise, with the goal of funding food for people in need here in Australia using the money people already spent on candles.

In 2019, as demand for Kenshi Candles grew, the family garage could no longer accommodate production. The candle-making process found a new home at our factory in Sunshine. Here, every candle is meticulously hand poured by refugees from Myanmar. This means that not only is each candle funding pasta for those in need, but it also provides vital income for the Chin refugee community in Melbourne.
With Liam's vision at its core, Kenshi Candles continues to illuminate lives, both through the the profits we donate and in providing meaningful employment opportunities for the Chin refugees.
The Kenshi Story
The inspiring story of Kenshi Life Changing Candles & Diffusers
---
Life Changing Candles?
As a social enterprise, Kenshi Candles donates a minimum of 50% of our profit to fund pasta for people experiencing food insecurity here in Australia. We are transparent about our giving, donating a specific amount per candle sold.
Every candle and diffuser sold online is directly funding 2kg of pasta which we buy ourselves and donate directly to food charities working on a grassroots level in Australia. By donating pasta instead of money, we ensure that there is no middleman taking a cut and 100% of your contribution goes directly to those in need. Join us in making a tangible impact in the fight against hunger.
What is your impact?